To get a great lawn, it must have a great start. We give your lawn a great start with the proper preparation, seeding and mulching. Our evaluation process ensures you get the right amount of fertilizer, seed, and mulching to produce great results. We stand behind all of our work, and will make sure it is done in a timely manner.
Anytime you are dealing with planting of any type, Mother nature plays a critical role. We strive to provide you with a job that will withstand the elements to the best of our ability. We will also rely on you to provide the proper care to start and maintain your lawn, such as watering and fertilizing. We work with our customers to make sure they are satisfied.

Member: Northwest Indiana Landscapers Association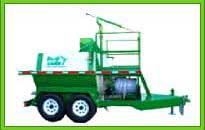 Hydro Seeding is done with our Easy Lawn Hydro Seeder. The process sprays water and a wood fiber mulch onto the seedbed, which helps to hold the seed in place, as well as hold in moisture to give the seed what it needs for good germination.